Tennsmith Bending
Bench Mounted Hand Brakes
Box & Pan Floor Brakes
HVAC Duct Brakes
Heavy Duty Hand Brakes

Tennsmith's heavy-duty hand brakes are designed and built for long service and accurate bending. Welded steel plate construction and heavy truss rods and braces provide strength and durability.

With much more substantial steel side plates than other domestically made units, these brakes have the rigidity required for upper beam adjustment without the use of wrenches.

Equipped with thrust bearings, the upper leaf adjustment screws permit quick, accurate alignment for different material thicknesses or radii.

Other adjustment features include:
– Leveling screws and lock nuts on the pedestals
–Jack screws and tensioner bolts on the apron
– Truss rods on the apron, base and upper beam
– Fully adjustable counter balances to facilitate the bending process

Tennsmith's FH Series hand brakes are designed and built for long service and accurate bending. Welded steel plate construction and heavy truss rods and braces provide strength and durability.

Removable apron angle and insert permit 1/4-inch reverse bends in lighter material.

Bored in line to ensure perfect alignment, the pivot points are fitted with oil impregnated bearings. The hinge pins are high-tensile, alloy steel.

Other adjustment features include:
– Leveling screws and lock nuts on the pedestals
– Jack screws and tensioner bolts on the apron
– Truss rods on the apron, base and upper beam
– Replaceable nose bar and apron inserts
Bench Mounted Hand Brakes
Tennsmith's bench-mounted hand brakes are rugged, dependable USA-made tools that won't break your budget.

Model HBU48-16 is a heavy-duty bench brake suitable for box and pan or straight bending in up to 16-gauge mild steel. The brake features a removable apron angle and apron insert permitting 1/4-inch reverse bends in lighter materials. The upper leaf and nose bar has a wide range of adjustment for radius bending. Standard equipment includes an apron stop rod for repeat bends, extension handles and a counterweight. Model HBS48-16 is identical in features and capacity to the HBU48-16 but is intended solely for straight bending. Like our larger hand brakes, the HBS48-16 features a replaceable nose bar.

Models U48-22 and S48-22 are lighter capacity versions of the four-foot bench brake, which offer economical alternatives in working 22-gauge and lighter materials. Also, their lighter weights make these models better suited for transporting to remote job sites.

Tennsmith's bench-mounted hand brakes provide an economical means of performing a wide range of sheet metal bending and forming operations. These brakes are of all-steel welded construction, readily adjustable and utilize bronze bearings at pivot points.

Box & Pan Floor Brakes
Tennsmith's HBT is designed to provide forming capabilities for complex parts. This machine is truly a universal hand brake, which allows for the removal of both upper and lower segments of fingers. Complex parts, such as HVAC transverse duct forming and down flanged parts, as well as architectural sheet metal and signage applications, can easily be formed using this machine.

The HBT is built with the same high-quality features and standards that TENNSMITH brakes are recognized for throughout the industry.

Tennsmith's HBU Series box and pan hand brakes are an economical tool for a wide range of sheet metal bending and forming operations.

The Model HBU48-12 can handle 12-gauge and lighter materials. The Model HBU72-16 is rated for 6 feet of 16-gauge material. Each hand brake is ideal for both box and pan and straight bending in hot and cold rolled plate, stainless steel, aluminum and heavy plastic.

Ample clamping and nose bar adjustments allow for the bend radius necessary for your application. Welded steel plate construction and heavy truss rods and braces provide strength and rigidity.

Tennsmith's F6 Series box and pan brakes were designed to provide heavy-duty forming capability, along with the flexibility of removable 6-inch box depth fingers. Ample clamping and easy-to-use nose bar adjustments allow for a quick-setting bend radius. Welded steel plate construction and heavy truss rods and braces provide strength and rigidity.

Other adjustment features include:
– Leveling screws and lock nuts on the pedestals
– Jack screws and tensioner bolts on the apron
– Truss rods on the apron, base and upper beam
– Fully adjustable counter balances to facilitate the bending process
– Removable apron angle and insert permit 1/4-inch reverse bends in lighter material

Tennsmith's EBT Series is a versatile machine that allows for the removal and repositioning of both the upper and lower segments for forming complex parts. In addition, the EBT incorporates gas spring cylinders in lieu of traditional counterweights to assist in the bending process and the raising and lowering of the upper beam. The brake also features goat's-foot-style upper beam tooling.

Common applications include:
– Architectural and ornamental metalforming
– Signage
– Aircraft panel fabrication

The Tennsmith electromagnetic brake offers performance no conventional bending brake can match. The unique design of the clamping system eliminates typical interference points of standard machines.

The rugged simple construction incorporates only one moving part to assure low maintenance and versatility for light duty forming. Included tooling allows for a wide variety of complex shapes to be created right out of the box including rolled edges up 360°, partial length bends, closed shapes, and unlimited box depths. Made in the USA.

Features:
– 48″ 18 ga mild steel capacity
– Unlimited box depth 110v 1ph power for easy placement
– Rugged simple construction, requires low maintenance
– Back gauge for repeatability
– Bend angle gauge for precise bends
– Full length bar and individual fingers included:
52-1/2, 26, 12, 6, 4, 3, 2, 1-1/2, 1, and 3/4″

HVAC Duct Brakes
Tennsmith's cleat benders are manually operated tools that form uniform drive cleat edges on rectangular ductwork in seconds without set-up or adjustment. The upper handle forms the cleat and the lower handle opens the tool for easy removal of the material. Heavy cast iron and fabricated steel construction provides long life and trouble-free operation. A Tennsmith cleat bender can save you time and money.

Tennsmith's Model DS24-20 cheek bender is a rugged tool built for increased productivity while getting the most consistent bends quickly. This model's two-way trunnion design holds the bending apron steady at the base of the bend ensuring accuracy throughout the length of the sheet.

This machine can be bench-mounted and adjusts for bends of 1/4 to 7/8 inches, 24 inches long. Tennsmith's cheek bender handles mild steel to 20-gauge.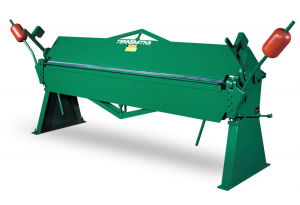 HB97-16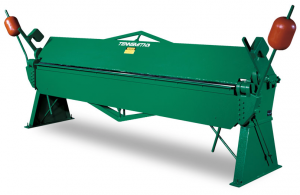 HB121-16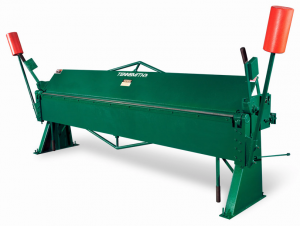 FH1016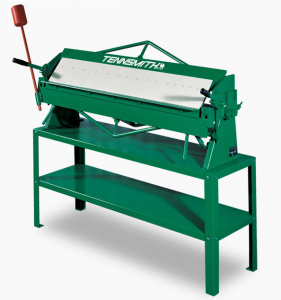 HBU48-16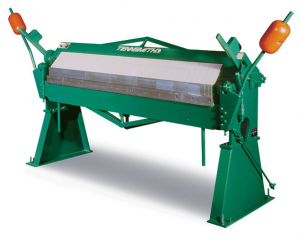 HBT72-16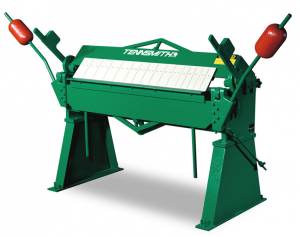 HBU48-12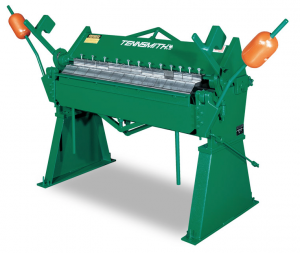 F6-48-12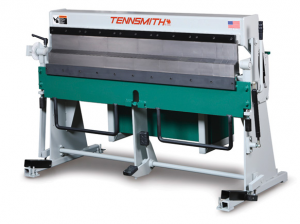 EBT60-16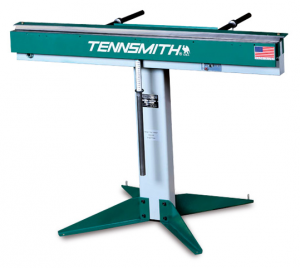 EMB-4818