Geka
One Cylinder Series Ironworkers
Bendicrop Series Ironworkers
Two Cylinder Hydracrop Series Ironworkers
The Model HYDRACROP is the most efficient dual cylinder ironworker sold on the market today. Available in 16 models with punch capacities ranging from 60 to 240 tons and flat bar capacities ranging from 12″ x 5/8″ or 8″ x 3/4″ to 30″ x 3/4″ or 20″ x 1″. Throat depths are 10″, 12″, 15″, 20″ and 24″.
---
THESE MODELS ARE OFFERED IN TWO CONFIGURATIONS:
"S" Models – Machines with a two speed hydraulic system with electric control. Also incorporates a larger hydraulic pump and electric motor resulting in a 50% faster stroke then the "A" Models.
"SD" Models – Machines with an extended throat version of the "S" Models.
---
STANDARD EQUIPMENT
Combination 3″ and 4″ channel blades
Multiple opening round and square bar blades
Starter set of punches and dies ranging from 5/16″ to 1-1/16″
Special offset punch and die holder for punching the legs of small structurals
---
FEATURES
Two independent working cylinders, one for the punch and one for the shear
Two remote foot pedals
Miter cuts angles on 45° leg-in
Large single cut, no-slug-loss, "non-deform" angle cut
Large "non-deform" plate shear capacity, low rake on blade
Easy to adjust length of stroke
Ram keyed for shaped tooling
Quick change punch holder
Adjustable swing away stripper
Structural die holder for punching beams and channels in the flange
Deep punch throat
Jog control
Round and square bar blades 3″ and 4″ channel shear blades
Rectangular coper or V-notcher
Plate shear support table with miter guides
East to adjust blade gap
Safety lock-out for the coper/notcher station
Machine prewired for electric automatic length gauge
Easy access to the hydraulics (front and back)
GEKA also offers a "Productivity Package" designed to make your machine even more efficient. This package includes a punch gauging table, a notcher gauging table, an electric length gauge and a magnetic based work light.

One Cylinder Series Ironworkers
These single-cylinder models are great entry level iron workers for those who only require 40 to 55 tons of punching capacity and do not exceed 3″ x 3″ x 5/16″ angle. These iron workers also shear plate, cut round bar square bar, miter angle and have additional features.
MODEL MICROCROP
40 ton punch 3″ x 3″ x 5/16″ angle with no-slug-loss cut 14″ x 1/4″ or 7″ x 1/2″ plate shear
Features: Easy stroke adjustment; Jog switch; Swing-away stripper; Quick change punch holder; Capability to cut angle on mitre; Remote foot pedal; Available in single-phase; Wide range of accessories; Prewired for electric length gauge.
Standard equipment includes: a 39″ electric length gauge and a punch gauging table.
MODEL MINICROP
40 ton punch 3″ x 3″ x 5/16″ angle with non-deform cut 12″ x 3/8″ plate shear
Features: Adjustable swing-away stripper; Quick change punch holder; Structural die holder; Rapid stroke adjustment; Jog switch for spotting of punch; Angle mitering; Plate support table with guide arms; Starter set of 10 round punches dies; Easy access doors at front and rear for maintenance; Rectangular coper (V-notcher pipe notcher optional); Blades for rounds and squares built-in (channel beam optional).
Standard equipment includes: a 39″ electric length gauge, a punch gauging table and a notcher gauging table.
Bendicrop Series Ironworkers
Geka has designed the Bendicrop models with a permanent built-in bending station along with the standard angle, round, square and flat bar cutting stations, punch stations and trimming stations. These machines are more complete than conventional ironworkers because they can perform bending work with a simple and safe procedure.

Features
One and two cylinder ironworkers with six work stations. Exclusive from Geka
Bladed holder's vertical movement that gives the machines excellent cutting performance
Fitted with an anti-torque system to reduce deformation when shearing flat bars. The Bendicrop models are fitted with an electric length stop and comes with two 90 degree V bending dies
Gooseneck die holder for punching channel and I-beam sections on legs and webs
Quick tool change
Angle shearing without loss of material. Wide range of openings for round and square bar
Flat bar and plate shearing system with minimum deformation.
Angle shearing up to 45 degrees.
Rectangular and triangular notching with a table. Also suitable for tube notching, rectangular notching, etc.
Built-in safety system: The punching guard is linked to a limit switch so when this guard opens, the punch lowers without pressure during the first pedal interval and rises during the second interval. This makes centering the punch and die much safer and easier.
Bendicrop 50
Flat bar shear: 14″ x 3/8″
Angle shear at 90: 3″ x 3″ x 5/16″
Notching: 3/8″
Punching: 55 tons, 1-1/16″ x 1/2″
Bending: 4″ x 3/8″

Bendicrop 60
Flat bar shear: 14″ x 3/8″
Angle shear at 90: 4″ x 4″ x 3/8″
Notching: 3/8″
Punching: 65 tons, 1-1/2″ x 7/16″
Bending: 6″ x 3/8″

Bendicrop 85
Flat bar shear: 18″ x 5/8″, 12″ x 3/4″
Angle shear at 90: 5″ x 5″ x 1/2″
Notching: 1/2″
Punching: 95 tons, 1-1/2″ x 5/8″, 1-1/4″ x 3/4″, 1″ x 1″
Bending: 8″ x 1/2″
 
Pumas Series, punching shears with 5 power settings.

The GEKA hydraulic punching shears have been designed by experienced technicians, assisted by powerful CAD CAM equipment and adapted to the ongoing suggestions of over 60,000 users of GEKA shears and ironworkers.
 
Because of these studies and our commitment to continuous quality improvement, GEKA ironworkers boast unique specs that make them tough machines capable of meeting all production needs.

– Technically dimensioned bed.
– Cylinder with additional guide.
– Strong and accurate shaft system to avoid distortions.
– Gradual centering of punch.
– Quick punch change.
– Safety protection.
– Ample space for mounting special equipment.
– Optimum operation speed.
– Large number of optional, standard and special accessories to perform a wide range of jobs.
– Range of punching machines from 55 Tn to 220 Tn with punching throats
Hydracrop 55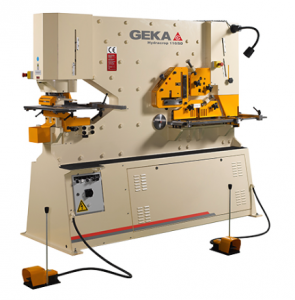 Hydracrop 110/180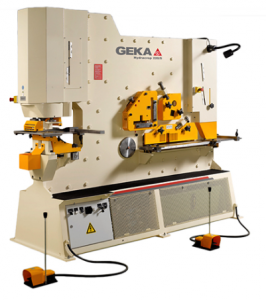 Hydracrop 220/300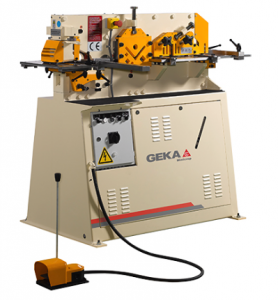 Minicrop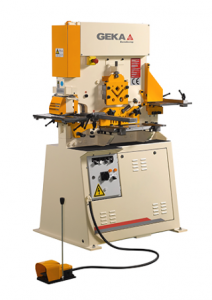 Bendicrop 50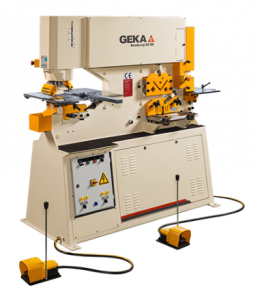 Bendicrop 60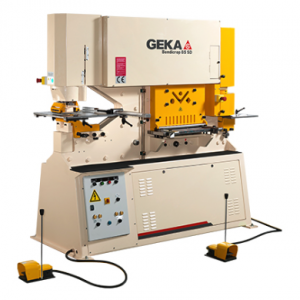 Bendicrop 85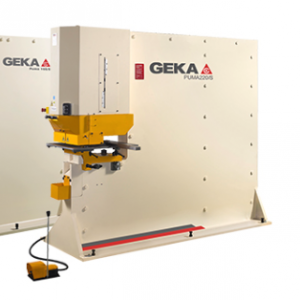 Puma Series