Tennsmith Rolling
Slip Rolls

Tennsmith's slip rolls combine precision-turned, ground and polished high carbon steel rolls with heavy-duty, cast iron end frames and a welded steel base to make an accurate and durable forming tool. Convenient operating features include large roll adjusting screws, scales for speeding repeat set-up, and a front-mounted handle to lift the upper roll for material removal. Wire grooves are standard.

Tennsmith's initial pinch slip rolls are heavy-duty, affordable, production tools for forming curved parts and tubes. Models SR48, SR324, SR336 and SR342 rolls have three gear-driven roll drives that ensure even starting and feeding of capacity materials. These same models also feature constant drive of the rolls. All three rolls continue to drive throughout their adjustment range.

The SR48 gearing features a 4:1 reduction ratio for ease of operation of heavy materials. All gears are fully enclosed for safety and protection from the elements.

Tennsmith's SR48P powered slip roll combines all of the features of our SR48 initial pinch roll with the productive advantage of electric-powered drive for production forming of curved parts and tubes made of 16-gauge and lighter sheet metal.

Rotary Machines
Tennsmith's rotary machine, R22, with interchangeable rolls, is a versatile forming tool for the manual performance of numerous sheet and metal operations.

This tool features solid cast, enclosed frame and smooth meshing machine gears. Material can be fed through the rolls in either direction by selecting the proper arbor. The forming pressure of the rolls is controlled by the crank on top of the frame. This unit comes standard with six different rolls, a hand crank, spanner and bench stand.

Tennsmith's rotary R24, provides simultaneous crimping and beading on 24-gauge and lighter materials. Spacer collars are provided with the machine to enable crimp-only operation. Optional extended ogee bead rolls are also available to configure the unit solely for beading. Standard equipment for the Model R24 includes ogee bead and crimping rolls, spacers, a hand crank, spanner and bench stand.

The PR-16 power rotary is a versatile machine capable of forming numerous applications up to 16-gauge mild steel material. Standard features include variable speed control, heavy cast body with steel body stand.

A 3/4-hp gear motor provides smooth operation. The forming pressure is controlled by a crank on the top of the frame on the standard unit; an optional hydraulic powered forming pressure unit is available. Rolls are ordered separately for this unit.

Crimping, single beading, ogee beading, elbow edging, flattening, wiring, burring and turning rolls are available.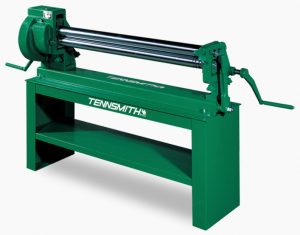 SR48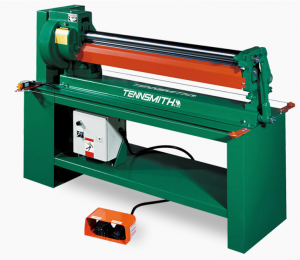 SR48P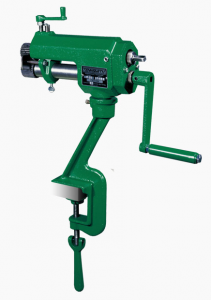 R22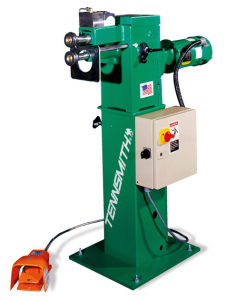 PR-16