HYDMECH 
Double Miter Band Saws
Horizontal Pivot Style Band Saws, S-Series
Horizontal Pivot Style Band Saws, m-Series
Horizontal Band Saws
Vertical Band Saws
Vertical Contour Band Saws
Circular Cold Saws
About
Over the past three and a half decades, HYDMECH has become a worldwide leader in metal band saw and cold saw technology and metal sawing solutions. Their progressive attitudes combined with innovative solutions in design and manufacturing have earned them a solid reputation as a company that meets the sawing challenges head on for all customers.
Double Miter Band Saws 
These versatile saws save operator set-up time and their compact design makes the DM machines ideal for use in tight working spaces. Cast iron head and vises are designed for rigidity, absorbing vibrations and ensuring accuracy during cutting.
Horizontal Pivot Style Band Saws, S-Series
HYDMECH's S Series Horizontal Pivot Band Saws set a benchmark for sawing technology within the industry. These saws were industry's first-ever to incorporate swing-head capability – an innovation that has taken the industry by storm! These are versatile, miter-cutting, scissors style machines designed for multiple medium duty applications at oil refineries and machine shops, fabrication shops, trailer manufacturers, automotive shops, and more. Saw models are available in manual, semi-automatic, and fully-automatic models, with the mitering capability up to 60º. Semi-automatic and automatic S-20 models feature environmentally-friendly "On-Demand" hydraulics and the S-20A model features a very accurate and quick material indexing ball screw.
Horizontal Pivot Style Band Saws, M-Series
HYDMECH's M Series saws are fully-hydraulic, heavy-duty horizontal pivot machines that withstand the high demands of machine and fabrication shops, trailer and automotive manufacturers and more. Easily cut tubing, channels, angles, solids, light to medium grade alloys, as well as non-ferrous and stainless materials.
The M Series machine have powered, hydraulic saw heads for mitering with just the simple push of a button. The powered head movement has an optimum range of up to 30 degrees, as well as indexing from 33" to 120" in a single stroke. M Series machines are available in semi-automatic and fully-automatic models with cutting capacities of up to 30".
Horizontal Band Saws
The H-Series saws are tough machines, designed to handle the demands of fabricators, steel service centres, machine shops, forging and die shops, and metal service centres. H-Series cuts solids, tubing, channels, angles, aircraft grade materials, as well as non-ferrous, stainless, and Hi-Temp alloys. This series is ideal for completing multiple slugging of parts, rounds, squares and structural material.
Vertical Band Saws
The V-Series saws are built to last and deliver non-stop performances. These are heavy-duty, high-performance vertical tilt frame saws that have the flexibility for cutting two-way miters. The V Series is available in semi-automatic and automatic modes of operation with cutting capacities up to 30″ and bar feeds from 40" to 120".
Vertical Contour Band Saws
Heavy-duty, vertical contour-style saws are multi-purpose to cut a large range of materials – from steel to aluminum, to wood, plastics, rubber, and everything in between! These versatile machines are designed with the flexibility to cut tight radius sections or larger cut-off sections.

HYDMECH features the following VCS series, vertical contour band saws in our product line-up: VCS-18, VCS-24, VCS-36, and VCS-36HD. The VCS models are manual vertical column contour band saws with variable frequency drive.

Throat ranges from 18″ – 36″, work heights from 12″ – 20″, 3 – 15 HP motor, and the ability to utilize blades from 1/18″ to 1″, the HYDMECH VCS Series machines are the ideal choice for all you vertical contour cutting needs.
Circular Cold Saws
HYDMECH Cold Saws deliver clean, straight, and the most accurate cuts for all your metal applications, including both ferrous and non-ferrous. HYDMECH premium quality rigid HSS and Carbide circular blades provide some of the best cuts in the industry.

These Cold Saws are available in manual, automatic, semi-automatic models with mitering capacity from 90º, 45º right or left, 60º left, and 45º tilted head.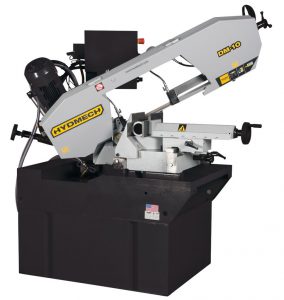 DM-10
DM-1215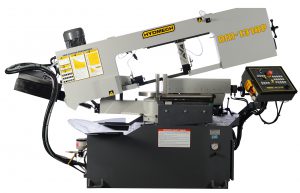 DM-1318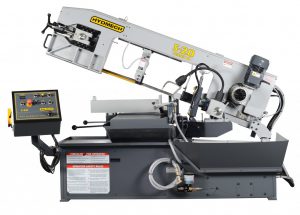 S-20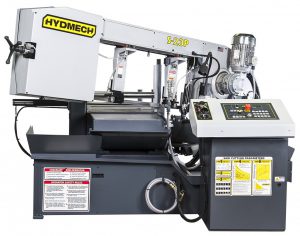 S-23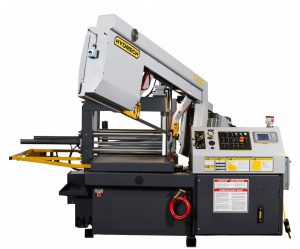 M-20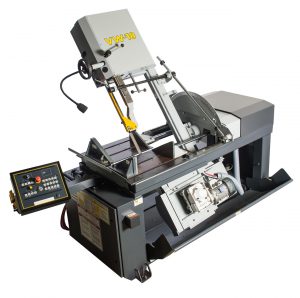 VW-18
C350-2AV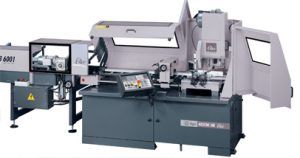 CNF400CNC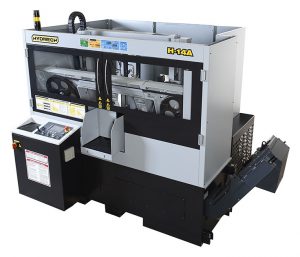 H-14A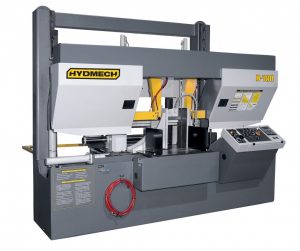 H-18A
H-28A