Marvel 
About
Amada Marvel, Inc. was founded in Chicago, Illinois and has been designing and manufacturing the highest quality metal cutting saws since 1904. The Company was started by two families, the Armstrong's and the Blum's, and was originally incorporated as Armstrong Blum Mfg. Co. The Armstrong's were manufacturing tools and tool holders under the name Armstrong Brothers Tool Co. and became friends with the Blum brothers, who lived in the same neighborhood, belonged to the same parish, and shared a common interest in design and manufacturing. The Blum's had been granted several patents and needed manufacturing space. The Armstrong's rented them space in their factory on Francisco Avenue in Chicago, which led to a partnership and the beginning a new jointly owned company.  
Vertical Tilt Frame Band Saws 
#8 Mark II & #8 Mark III
– Speed Range: 50 – 450 fpm (15 – 137 m/min) infinitely variable with inverter drive.
– Front Mounted Speed Control: Allows blade speed to be adjusted from operator's control station.
– Feed Pressure: Infinitely variable with control on operator's panel and Automatic Column Return.
– Column feed is mechanical with Marvel clutch power feed.
– T-Slotted Work Table: Work area 24.25" x 33" (616 mm x 838 mm); Table height 34.5" (876 mm)
– Wheel Diameter: 19" (482 mm), cast iron wheels.
– Blade Break/Stall Detection: Standard equipment, shuts off machine in the event of blade breaking or stalling.
– Quick-Action Vise: Jaws can be shifted to either right or left side of blade.
– Jaws are 6" (152 mm) high, 12" (305 mm) wide.
– Automatic Stops: Adjustable stops can be pre-set to stop advance and return of blade, and also to stop motor at any location within the 18" (457 mm) travel of the blade.
– Flushing Hose: Washes chips from hard to get at places reducing clean-
up time.
– Power Chip Brush: Together with blade wipers and flood coolant deep blade teeth free of chips.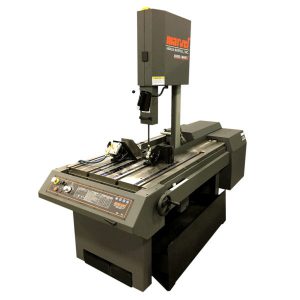 #8 Mark II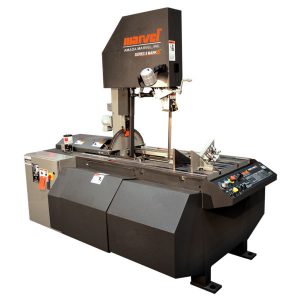 #8 Mark III